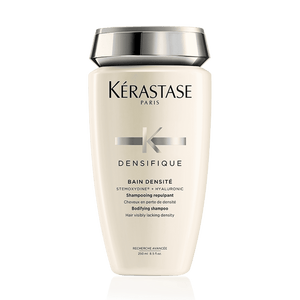 *more is more with this bodifying shampoo, more thickness, more fullness. For hair visibly lacking density
DETAILS
This daily shampoo is designed for hair fibre experiencing loss of density. Providing restoration and strengthening of the fibre while protecting against further hair stress. Awakens dormant follicles to give more texture, substance and resilience to the hair. Body and bounce are restored for hair that appears visibly fuller and thicker. 
RESULTS:
10 days: more body
30 days: more density
90 days: more than 1700 new hairs-increased number of hair per cm2
KEY BENEFITS
Stemoxydine mimics the oxygen-deficient environment required for stem cells activity to function properly in order to stimulate and awaken the dormant hair follicles, revealing up to 1000 new hairs
Power Renewal Complex + Ceramide Technology to restore and strengthen the hair fiber
Hyaluronic Acid a natural salt that retains up to 1000x its weight in moisture for weightless hydration and resilience to plump the hair 
Intra-Cylane minerals which strengthen the structure of the hair from inside through a 3-dimensional framework
Gluco-Peptide enters the deepest layers of the cuticle to compensate surface irregularities for restoration of smooth uniformity to the hair cuticle to increase shine and resiliency, hair is texturized
Ceramides for strengthening the hair fiber while protecting against further hair stress
Complex Glycan molecules responsible for cellular regeneration and fibre diameter-the higher the glycans concentration, the thicker the hair
HOW TO USE
Apply to wet scalp roots. Massage. Rinse.
PAIRS WELL WITH
Kérastase Fondant Densité.
"We call this collection filler for your hair. Who could say no to that."