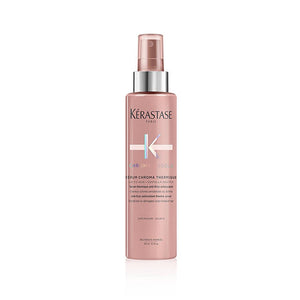 *anti-frizz antioxidant heat protectant hair serum
DETAILS
A universal anti-frizz antioxidant leave-in serum for all sensitized or damaged colour-treated hair. A fluid texture enriched with antioxidants properties, lactic acid & centella asiatica helps to preserve colour by completely shielding fibre against all types of external aggressors: UV induced damage, humidity, heat and oxidative stress. This hair serum for frizzy hair, protecting colour and transforming it with softness. Hair is left frizz-free, shiny, sealed and healthy.
Hair is 96% more moisturized and instantly softer with reduced porosity 
Intense protection against humidity and water molecules in the air for 77% less colour induced frizz
Rich antioxidant properties help protect hair and color from oxidative stress
Thermo-protection 230°C


KEY BENEFITS
Amino Acids a building block of hair fibre, with the ability to penetrate deep at the core of hair to increase strength and resilience, rebuilding from the inside out.
Centella Asiatica Extract, a millenary regenerative plant widely used in Asian skincare, known for its caring, healing properties,  acts as a fortifying agent that nourishes the hair follicles and scalp and priming it for a healthy hair growth. It helps in improving blood circulation, allowing the proper flow of oxygen and nutrients to the scalp, ultimately helping recover fibre health.
Tartaric Acid, derived from grapes, stimulates collagen production, powerful healing acid helps reduce oxidative stress and shields fiber against external damage to protect and preserve hair color.
Arginine an essential amino acid in hair fibre production, playing and important role in cellular mechanisms to stimulate microcirculation and in nourishing the hair build for optimal future growth
Lactic Acid smoothes, strengthens and restores elasticity to hair, gently exfoliates and seals surface to reduce frizz and boost shine
Hyaluronic Acid fills and heals fibre wounds from within for a uniform , deeply nourished cuticle, strengthening hair and preventing future breakage
Hydrogenated  Castor Seed Oil moisturizes and strengthens hair to help prevent breakage and split ends
HOW TO USE
ON TOWEL-DRIED HAIR:
1. Take 2 to 4 pumps, depending on the lengths and thickness of the hair.
2. Spread down to tips, then comb to evenly distribute the product.
3. Proceed to blow-dry or air dry.

ON DRY HAIR:
1. Apply to dry hair after blowdrying or airdrying as a finishing touch to tame frizz and boost shine.
2. Style as desired.