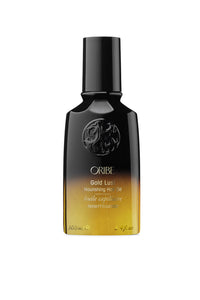 *for all hair types, to strengthen and condition dry, damaged or colour-treated hair
DETAILS

 
A luxurious, lightweight oil that adds shine and silkiness while detangling and reducing frizz. Penetrates the hair shaft to restore, strengthen and condition damaged locks while also providing thermal protection and reducing dry time!
Dermatologist-tested. Formulated without parabens, sulphates or sodium chloride. Colour and keratin treatment safe. Vegan, cruelty-free and gluten-free.
KEY BENEFITS
A Special Blend of Emollients conditions and softens hair without weighing it down
Argan Oil adds lightweight shine, softens, reduces frizz and improves hair's condition and manageability, all while shielding against UV rays and environmental pollutants 
Jasmine Oil helps combat dry, itchy scalp and enhances shine
Sandalwood Extract, Amur Cork Tree Bark Extract and Barley Extract from a proprietary blend optimized to stimulate the hair cuticle, enhance moisture content, repair split ends and improve overall hair aesthetics
Cassis Seed Oil contains omega-6 and omega-3 acids, which moisturize and strengthen
Oribe Signature Complex (Watermelon, Lychee and Edelweiss Flower) defends hair from oxidative stress, photoaging and the deterioration of natural keratin, all while protecting from the drying, damaging and colour-depleting effects of the elements
HOW TO USE
Apply throughout damp hair as aper-shampoo or overnight treatment. Use on damp hair before blow-drying for heat protection or on dry hair for extra lustre and frizz control. Use on dry hair before going in the sun for protection.