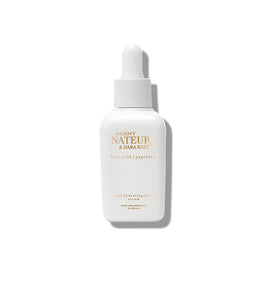 *Silk peptides soft hydrating hair serum
DETAILS
A hair serum that delivers silky, soft and shiny strands with a blend of nourishing oils, restorative proteins, and replenishing conditioners. Hair (silk) peptides is unique from other hair oils because it works with your hair overtime, not just for a day. Formulated with french silk peptides, hyaluronic acid, and monoi - ingredients that hydrate, revive and soften your hair, without the use of harsh silicones. 
The serum ensures the look of strong, smooth, soft and shiny hair, while also strengthening the appearance of your mane. 
Our hair (silk) peptides serum will help your hair achieve its maximum potential, helping with the following concerns:
◦  dull, damaged hair
◦  split ends
◦  dry scalp
◦  hair breakage
◦  hair dryness
◦  frizziness 
◦  difficulty styling
*Agent Nateur products are Ecocert organic certified and compatible with even the most sensitive skin.
non-gmo and gluten-free
petrochemical-free
KEY BENEFITS
Silk Peptides are hydrolyzed proteins derived from the natural silk, Fibroin. This strengthening compound contains cysteine - an amino acid that supports the bonds between keratin molecules - helping to strengthen hair from root to tip, as well as improving elasticity and locking moisture into your mane for thicker, healthier looking hair. 
High-Molecular Weight Hyaluronic Acid is intensely hydrating, helping to actively pull the appearance of moisture to the surface of the hair, making it perfect for nourishing dry, damaged, colored, sun-exposed or frizzy hair. On top of ultimate hydration, hyaluronic acid has a filling and restorative effect on your hair, promoting the appearance of thick, voluminous hair, delivered with a sleek, smooth and healthy finish. 
Beracare ARS Hair Serum™ is our fourth active ingredient that is a natural complex packed with properties that promote the look of hair follicle revitalization and hydration of the scalp, with both helping to deliver an intense glow for your hair. This truly revolutionary hair revitalization product is made up of naturally derived Passiflora Edulis Seed, Oryza Sativa Rice Bran and Euterpe Oleracea Fruit Oil and is perfect as a non-silicone solution to deliver the ultimate gloss, softness and shine for your hair.
Crambe Abyssinica Seed, phytosterol esters, derived from the crambe plant, delivers moisture and hydration. This potent ingredient improves the appearance of hair elasticity, resiliency, condition and enhances shine - leaving hair hydrated, vibrant and strong.
Monoi is a lightweight moisturizing agent, packed full of antioxidants and high in vitamin E. This natural ingredient, derived from the Tahitian Tiare Gardenia Flower, is deeply hydrating and conditioning, working to deeply nourish and hydrate dry and damaged hair to restore intense shine, helping to deliver longer, stronger and healthier looking hair.  
Passiflora Edulis Seed, derived from the seeds of the passionfruit, is an effective yet natural alternative to harsh silicones. High in linoleic acid and lycopene, the passiflora edulis seed delivers smoothing, taming, and nourishing qualities, nurturing dry, dehydrated and damaged hair and scalps, while its lightweight qualities also ensure it is suitable for fine hair.  
Pumpkin Seed helps hair appear more voluminous, while simultaneously nourishing both roots and ends. The ingredient, containing omega-3 and omega-6 fatty acids, helps to revitalize and strengthen hair while reducing the appearance of split ends and dry and damaged hair. Thicker looking, more resilient hair, with extra shine. 
HOW TO USE
Shake before use. Drop a small amount into one hand and distribute between your palms. Finger comb evenly through damp or dry hair before styling.
suitable for all hair types