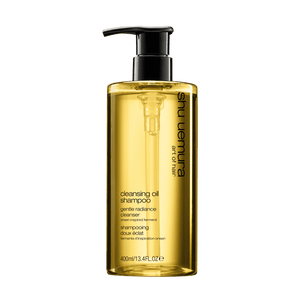 *gentle radiance cleanser
DETAILS
Cleansing oil shampoo formulated with delicate ingredients that leave hair balanced—with both moisture and volume—without stripping the scalp of its natural oils. Transforms into a rich foam that effectively draws out the impurities and buildup on the scalp. Leaves hair soft and shiny with a lightweight finish. The soft formula with onsen-inspired ferment, known in Japan for its purifying virtues, gently cleanses all hair types while respecting the balance of the scalp. The lightweight cleanser provides radiance with a unique airy touch.
Note: don't let the name fool you-this is not an oily shampoo, its amazing on fine hair, it is also not an anti-oil shampoo so no worries about it stripping your hair! It is our most pure and balanced shampoo for optimum scalp health, making it ideal for babies sensitive skin, scalp and hair. (It is not a tear-free formula). Trust us, you do not want a tear-free formula as the pH is too high and can cause irritation, cradle cap and eczema. Due to the formula you can use this as body wash for your little one as well-they will smell SO good and their skin will feel SO soft!
Paraben and silicone free.
KEY BENEFITS
Bergamot Oil, rich in Antioxidants and Antimicrobials help shield the hair and scalp against the damaging effects of oxidative stress
Gentiana Lutea Root Extract with 

anti-inflammatory and antiseptic properties for the skin, stabilizing both the product as well as the skin surface from harmful microorganisms
Safflower Seed Oil promotes moisture retention to soften and condition hair while protecting against free-radical damage, strengthens the follicles and encourages strong health hair growth
Oleic Acid (Omega 9), Proteins and Glycerides, excellent for skin and hair conditioning properties and essential to keeping hair healthier, stronger and shinier
HOW TO USE
Apply to wet roots and scalp. Massage. Rinse. 
"One of our most pure shampoos. Its all my babies have ever used. My husband uses it, and I use it as a pre-cleanse to remove all my dry shampoo. A staple that is ALWAYS in our shower".