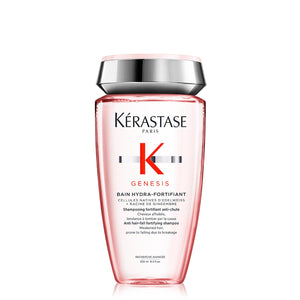 *anti hair-fall scalp oxygenating cleanse
DETAILS
A fortifying shampoo for weakened hair prone to falling due to breakage. The ultra-delicate formula is ideal for fine or greasy hair to remove sebum and pollution particles from scalp. Its gentle cleansing action soothes and hydrates root, reinforcing and strengthening the fibre for intense resilience to reduce risk of hair-fall, leaving hair prepared to be treated, fortified with a fuller and healthier look and a lightweight feel. 80.9% reduces hair-fall due to breakage making hair more resistant with immediate hydration and softness.
KEY BENEFITS
Edelweiss Native Cells, known for its antioxidant power and collagen preserving properties, it is capable to resist the most extreme conditions
Ginger Root protects against daily external aggressor
Dipeptide (DDBD), a tripeptide derivative (a 3 amino acid peptide) that mimics the polypeptide found in snake venom, which can achieve a Botox-like effect used as a skin conditioning agent for an ageless scalp
Salicylic Acid prevents sebum buildup, reducing risk of clogged follicles and formation of dandruff, keeping scalp free of dead skin cells
HOW TO USE
Apply to wet scalp, lather, rinse. Repeat.
PAIRS WELL WITH
Kérastase Genesis Fondant Renforçateur. When paired together the duo works in tandem to modify and plump the fibre.