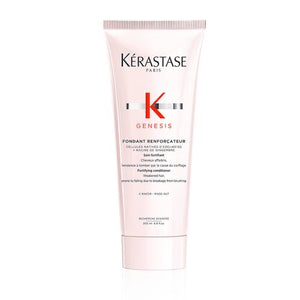 *a fortifying conditioner for weakened hair, prone to falling due to breakage
DETAILS
This creamy formula offers anti-breakage action with the most lightweight finish. It helps restore the fibre and reinforces its natural resistance to reduce the risk of hair-fall due to breakage, instantly smoothing, strengthening and softening the fibre while providing deep nutrition without weighing down the hair. Hair is uniform, shiny and stronger.
97.7% reduced hair-fall due to breakage

97.7% less breakage

97.7% more resistant

97.7% stronger hair
KEY BENEFITS
Edelweiss Native Cells, known for its antioxidant power and collagen preserving properties, it is capable to resist the most extreme conditions
Ginger Root Extract protects against daily external aggressor
Sunflower Seed Oil, high in Essential Fatty Acids (Phospholipids and Ceramides) as well as Antioxidants and Vitamin E, is deeply nourishing and soothing to dry hair by locking in moisture and strengthening strands
Soybean Oil, rich in Fatty Acids, Manganese, Vitamins and Lipids, helps hair treatments absorb better as its a non-greasy carrier oil that improves moisture retention and shine
Tartaric Acid, derived from grapes, stimulates collagen production
HOW TO USE
Apply hazelnut sized amount on washed and towel dried hair. Massage through mid-lengths to ends. Indulge for 2 to 3 minutes. Rinse thoroughly.
PAIRS WELL WITH
Kérastase Genesis Bain Hydra-Fortifiant. When paired together the duo works in tandem, to bodify and plump the hair fibre.