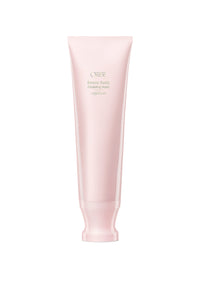 *for a clean slate
DETAILS
Reveal the secret to a healthy scalp. This powerful scrub, formulated to be gentle on scalp and hair, with serum-based beads to remove dead skin, oil, dirt and product buildup due to a unique blend of physical and chemical exfoliants to cleanse and detoxify pores for a purified, balanced scalp. A blend of alpha hydroxy acid (AHA) and fruit extracts hydrates, nourishes and softens hair at the root. Scalp is left primed and deeply purified, revealing an optimal environment for a soothed, healthy and energized scalp resulting in even healthier strands.
KEY BENEFITS
Soothing Flower Complex (Chamomile, Cornflower, Matricaria, Linden,Marigold and Willowherb Flower Extracts)deeply hydrate, nourish and calmscalpwhile reviving damaged hair and protecting against breakage.
Soft Polymer Beads breakdown as you scrub to gently polish away dead skin, oil, dirt and product buildup.
Oribe Signature Complex (Watermelon, Lychee and Edelweiss Flower)defends hair from oxidative stress, photoaging and the deterioration of natural keratin all while protecting from the drying, damaging and color-depleting effects of the elements.
Blend of Alpha HydroxyAcids (Lemon, Orange, Bilberry, Sugar Cane and Sugar Maple Extracts) exfoliates and purifies scalp without drying or stripping hair of its natural oils.
Peppermint Oil provides a cooling sensation to instantly soothe, balance and moisturize the scalp while promoting a healthy hair environment.
Malachite Extract, known as the sacred stone of Ancient Egypt, helps to detoxifyand provide environmental pollution protection for scalp and hair.
Caffeine energizes scalp and rejuvenates hair follicles.
Glycolic Acid gently exfoliates the scalp while conditioning, moisturizing and softening hair to strengthen and improve manageability.
HOW TO USE
Before shampooing, wet hair and apply directly to scalp. Massage in thoroughly, rinse and follow with shampoo and conditioner as usual. Use weekly.
UNDERSTANDING WHY YOU SHOULD BE EXFOLIATING YOUR SCALP:
The scalp is an extension of the face. Therefore the skin of the scalp needs to be treated similarly. Exfoliation activates essential skin functions, promoting epidermal regeneration and regulation of the keratinization process. Sloughing off dead skin cells is vital for cell renewal. 
Tip: Scalp exfoliators are highly recommended for anyone who has psoriasis, eczema or other dry and/or overly oily scalp conditions. They will not irritate but rather soothe and begin the healing process. Everyone should be using a scalp exfoliant, but especially those with extreme scalp conditions on a regular basis once per week.
PAIRS WELL WITH
Follow with any of our shampoos specific to your hair needs. Find our selections in our HAIR drop down menu under HAIR CARE. 
"Healthy hair starts at the scalp"